Telecom Rectifier System
Smart Diesel Generator Control
The Apollo System Controller firmware includes our Smart Energy Flow Algorithm which starts and stops the external generator at the optimum times. The fuel consumption and DG run time are minimized by stopping the generator when solar energy becomes available while ensuring that the telecom BTS loads are always powered and that the batteries are never deeply discharged. The lowest cost source of energy is prioritized to be used first.
Complete Turnkey System
The Apollo Inverter Systems provide TURN-KEY Energy Source Selection. The Apollo cabinets are completely assembled, wired, and tested in our factory in the USA to provide a single point of responsibility.
 Remote Monitoring of all energy sources
Voltage, Current, Power and Energy from each AC Source in addition to the PV input, Battery State of Charge, Temperatures and Individual Load Outputs.
Complete Energy System Electronics
Use any energy source available
Comprehensive Remote Monitoring
Outdoor Rated Cabinet
Cabinet size: 1000 x 1200 x 300 mm
Factory wired and tested in the USA
5 Year Warranty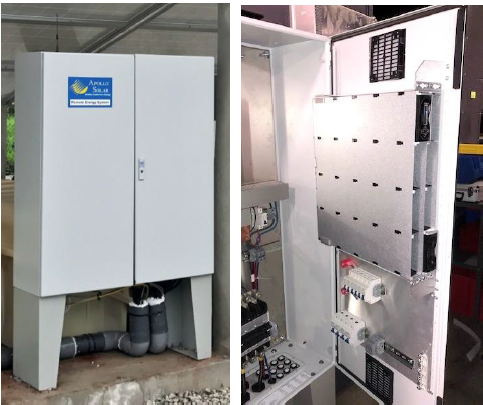 Apollo Solar cabinet; rectifier and breakers on door.This compact system provides all the AC components in the same cabinet as the MPPT Solar Energy System. In addition to Circuit Breakers on the inputs and outputs of the Rectifier, an optional Automatic Transfer Switch and Healthy Phase Detector fit in the housing.