TSW TRUESINEWAVE INVERTER CHARGER
The TSW is the ideal solution for residential and commercial off-grid systems in the 2kW-12kW range. It includes a DC to AC true sine wave inverter, battery charger, and AC transfer switch in a compact modular housing and provides 4000W at 48V.
Specified by Installers, Required by End-Users
The TSW4048 meets specifications provided by installers, distributors, and dealers and required by end users of battery-based PV power systems. The result is a single box that provides 120 and 240 volt AC power at 60Hz as well as 230 VAC at 50Hz. With a compact footprint and modest weight, the Apollo Solar TSW Inverter also provides ease of installation in tight spaces.
120/240 Volt AC Split-Phase Input and Output
200% Surge Power Capacity, Starts a 3HP Motor
Efficient Multi-stage Battery Charging
Advanced Apollo Solar Data Communications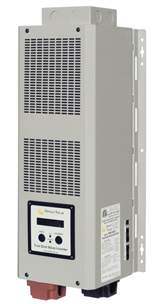 True Sine Wave Output
120/240 VAC Split-phase Operation or 120 VAC at Twice the Current or 230VAC 50Hz from the same unit
200% Surge Power Capacity
Parallel Stacking of Multiple Inverters
High Current 5-stage Charging for Maximum Battery Life & Storage
Efficiency 93% for 24V, 94% for 48V
2 Line LCD Shows Major Parameters
Optional Network Communications: Remote Internet Monitoring and Ethernet to Local Computers