Industrial Applications
Apollo Solar products are used in a variety of industrial applications, especially when the location is remote or reliability and remote monitoring are essential requirements.
Apollo solar  in the energy industry
Products by Apollo Solar are used by remote oil exploration and production units worldwide, in ocean, desert, mountainous, and other remote locations.
Apollo solar products used in the aerospace industry
Apollo Solar, Inc. grew out of its early work building solar charge controllers for NASA. Our mission was to provide the maximum energy possible by harvesting energy efficiently from solar panels using MPPT (maximum power point tracking) and by charging the batteries as efficiently as possible.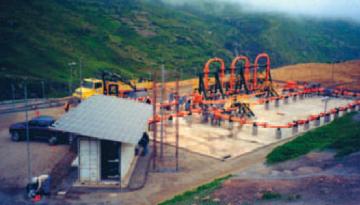 Benefits of Apollo Solar Products in Industrial Settings
Are designed to work in a broad range of temperature extremes, from Antartica to the Sahara.
Provide excellent performance, maximizing the energy from solar panels and batteries.
Are extremely reliable, which is important in applications where it can take you a week to get replacements.
Incorporate communications to help monitor and control the system from near and very far away.
Offer remote monitoring and control can alert system operators to forthcoming problems, without distracting on-site personnel who have more important responsibilities.
Apollo Solar provides extensive support in designing, specifying, and customizing its products for demanding applications. Many remote energy systems require special features or specifications.