Pure Solar Cabinets by Apollo Solar
The T80HV is the most cost-effective Charge Controller for battery-based PV systems. Designed to work with new higher voltage PV modules, the T80HV offers improved battery life, full capacity, and 98 to 99% efficiency. With an integrated battery energy monitor, communications and Maximum Power Point Tracking, you get power and control in a single device.
More Power, Greater Efficiency Means Lower Total Cost of PV Systems
The T80HV TurboChager captures up to 35% more power from the PV array using Apollo Solar's algorithm for Maximum Power Point Tracking (MPPT). The result is a dramatic reduction in the cost of a PV system by reducing the number of PV panels required, eliminating the need for heavy gauge wiring, and increasing the life of the batteries.
Precision charging of 12/24/36/48V batteries using voltage sense wires
Improved Battery Life and Full Capacity – 98% to 99% efficiency all day
High-efficiency circuits and robust thermal design – minimize heat generation.
Best MPPT Energy Harvest – the Apollo MPPT algorithm locks onto the peak power during rapidly changing insolation and temperature.
Power and Control in a Single Device – integrates Maximum Power Point Tracking, battery charge management, state-of-charge information, and communications.
Wire more PV modules in series to 180 Voc, 160 Vmp (200V abs max)
80 Amps continuous output at up to 45oC (113oF) ambient temperature
98% to 99% Efficiency all day
Precision charging of 12/24/36/48V batteries using voltage sense wires
One-minute set-up with fail-safe calculated defaults
Free Battery Energy Monitor Built In
Easy stacking of up to 16 T80HV's in parallel for higher currents
Remote Monitoring with Optional Internet Gateway or Remote Display
Detailed specifications and installation details for the Apollo Solar T80 and T80HV.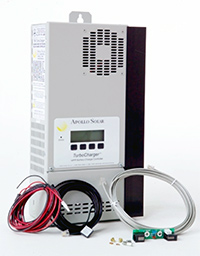 From the White Paper:
Pure Solar systems shown in the simulation are the ultimate in remote energy system design. As the name implies, there is no generator and therefore no diesel fuel and therefore no GHG produced. The fuel delivery and theft problems do not exist.
An important benefitof the Pure Solars ystems is great reliability. There are no moving parts to require oil, inspection and replacement. And no generators which always need oil changes and other care to make sure they have the best chance of starting every day. Pure Solar sites have proven to demonstrate 100% up time for many years.
Total Cost of Ownership: Pure Solar Energy Systems