Custom Pre-Wired Panels and Cabinets
Apollo Solar Pre-Wired Panels (PWP) save time for the installers on site and they eliminate the possibility for errors.  The necessary Charge Controllers and Inverters are mounted, along with the Circuit Breakers and wire termination point on an aluminum panel. The internal wiring is completed and the panel is fully tested in our factory.
Proper Sizing – The ampacity of the circuit breakers and wire are sized properly according to NEC rules.
Easy Installation – A complete installation and operating manual is supplied with the system.
Indoor Conditions – Pre-wired Panel products are intended for indoor installations.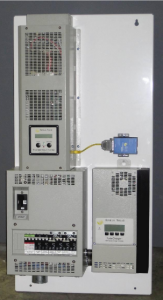 Pre-Wired Cabinets
The Apollo Solar Pre-Wired Cabinets are the latest in the line of products designed to meet the exacting needs of installers.  In our factory, we assemble a complete solar energy system with Charge Controllers, Inverter/Chargers along with all the proper size Circuit Breakers and external connectors.
Easy Installation Saves Time – The wiring and testing is done so the installer has total confidence that the Apollo products will save him time and will work perfectly upon installation.
Weatherproof – The Pre-Wired Cabinets are weatherproof and designed for outdoor installations.
Add-on Options – The cabinets are built with room to hold more options and features than the Pre-Wired Panels.