Live Monitoring of Remote Power Sites
Get critical parameters on every site via the Apollo Solar Remote Monitoring System.
Maximum Knowledge, Minimal Downtime
Simply log in to:
See the status of vital operating conditions – every 10 seconds.
Monitor and handle alarm conditions
View data and KPI via charts and spreadhseet tables
Secure authorization for different levels of users.
Monitor all your sites simultaneously, from any PC/tablet. Pin color indicates alarm and site status. Select any site on the map and see every parameter in real time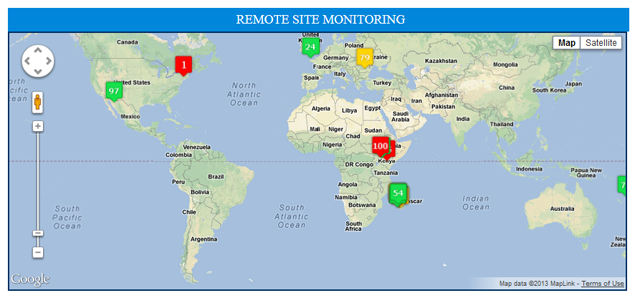 The Site Status page provides an overview of the operational status of each site in REAL TIME.
Irradiance Received and Potential Solar
Energy Available
PV Array Voltage, Current and Energy Received
Battery State of Charge, Voltage, and Energy Flow
Notification of Circuit Breaker and Contactor changes
Database of all components, specs and serial numbers
Temperatures of Charge Controllers and Battery
Load profile
Limits with Alarm on any parameter
Alarms on all Security Sensors
Log of all alarms
Chart controls allow you to choose three charts at a time for different dates and time frequencies, to better understand the performance of any site. The history of key variables are easily charted. Shown on the right:
Solar Energy Available
Battery Charging Current
Battery Voltage
Monitor Alarms, Minimize Downtime. The Apollo Solar Remote Monitoring System logs all alarms.